Home values expected to drop in Canterbury… eventually
Christchurch's average home value hit $800,000 for the first time last month — but it probably won't be the last time it reaches that milestone.
The latest QV House Price Index shows the average Christchurch home increased in value by 0.5% in April to reach $801,614, a new local record that QV property consultant Olivia Brownie said would likely be "fairly short-lived" as a nationwide property downturn continues to gather pace elsewhere.
"It remains to be seen whether the average home value will keep above that level, or whether we'll start to see it drop back down a bit in coming months. I suspect we will see it drop, sooner rather than later. Certainly there are already clear signs that the city's property market has slowed as a result of rising interest rates with value growth tapering off generally from recent peaks. I think a new equilibrium will be found sooner than some predict."
It's already occurring in most of New Zealand's other main centres. Nationally, the average home value fell 2.2% over the three months to the end of April, with just five of the 16 major urban areas that QV monitors, including Christchurch, managing to buck that trend. Wellington experienced one of the largest drops in home value at -3.6%, with Dunedin and Auckland not far behind on -3.4% and -3.1% respectively.
"Christchurch is still relatively affordable by Auckland and Wellington standards, where the average home costs more than $1m. That may help explain why our prices are still going up while theirs have flattened and fallen, but they're also probably further along in the current property cycle than we are, being first to rise and also first to fall," Miss Brownie said.
"But while Christchurch house prices appear to be holding up despite the change in market dynamics, sales activity is down right now. We're also getting feedback that buyers are struggling to get finance, with the recent increase in the OCR also impacting borrowing power. More properties have been listed in recent months as buyers look to sell at the top of the property market, which will be another key factor influencing reduced home value growth over the coming months."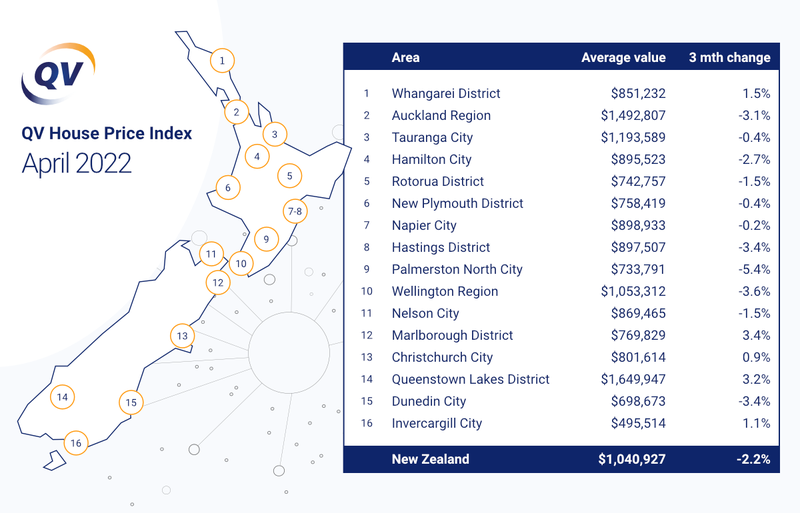 Meanwhile, home values have increased across the greater Canterbury at a rate that is twice as fast as the average New Zealand home, rising 28.4% in the 12 months to the end of April 2022 compared with a national average of 14%. In the most recent QV House Price Index, which came out this week, Mackenzie was the only Canterbury district that posted a loss in average home value for the three months ending 30 April.
"It's difficult to see this level of growth continuing as we come into the cooler months now, with inflation and the cost of living on the up, and interest rates only expected to rise even further. Expect to see this growth level off and potentially reduce in coming weeks and months," Miss Brownie added.
Keep track of all these value movements and more via our interactive QV House Price Index.