RBNZ to provide Govt with advice on debt-to-income and interest-only mortgage restrictions weeks after it releases its Financial Stability Report on May 5
By Jenée Tibshraeny
The wait continues for those interested in whether or not the Reserve Bank (RBNZ) will go further to restrict bank mortgage lending.
The RBNZ plans to respond in late-May to the Government's request for more information on restricting interest-only mortgages and lending to people seeking large mortgages compared to their incomes.
Some observers may have expected the RBNZ to release this advice at the same time it publishes its biannual Financial Stability Report on May 5 to effectively kill two birds with one stone.
But, the RBNZ told interest.co.nz: "We will be providing advice on policy options for responding to the Government's section 68B direction on housing-related matters late next month.
"This will be released separately to the publication of the May Financial Stability Report."
Finance Minister Grant Robertson on February 25 asked the RBNZ to provide advice on debt-to-income (DTI) and interest-only restrictions. He did so as he issued a direction under section 68B of the Reserve Bank Act, requiring the Bank to have regard for the Government's housing policy in the work it does to ensure the financial system is stable.
Once the RBNZ provides advice on DTI and interest-only mortgage restrictions, the Government will need to decide whether or not to add these tools to the RBNZ's "macro-prudential" toolkit.
Should it do so, and should the RBNZ decide it needs to use these tools, it would need to publicly consult on the matter. This could take some time. For example, there was a three-month gap between the RBNZ starting consultation on reinstating loan-to-value ratio (LVR) restrictions and these actually came into force.
There a number of complicating factors underpinning this situation:
1. Robertson has repeatedly said he would only want DTI restrictions imposed on investors. But RBNZ Governor Adrian Orr has said this would be difficult.
The RBNZ doesn't even publish data on investors' DTI ratios. The data it publishes shows first-home buyers - the group Robertson is trying to protect - have been taking out increasingly risky mortgages, as house price growth shoots ahead wage/salary growth.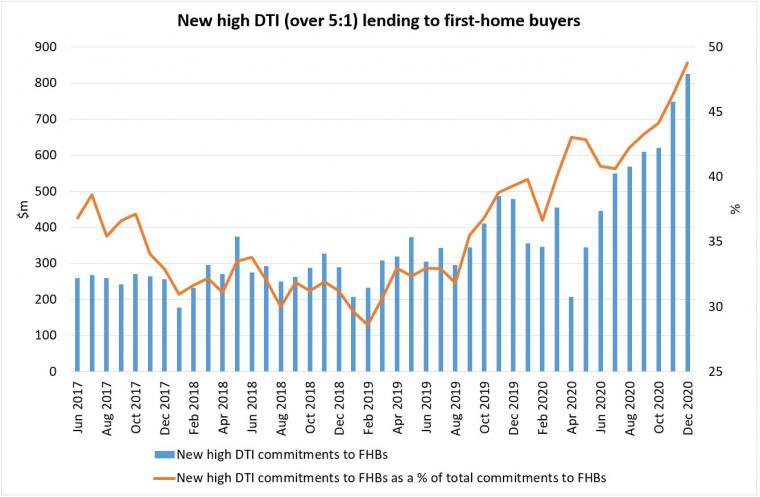 2. The effects of tax changes aimed at reducing demand for property by investors are yet to be seen.
As this reporter suggested in an opinion piece published earlier this month, the RBNZ may want to consider the impacts of a proposed law change to remove the ability for investors to deduct interest as an expense for tax purposes, before taking another step to curb demand for property.
The RBNZ may also want to sit tight and consider the impact of LVR restrictions reimposed in March.
3. Robertson is proposing to change the roles of both the Government and the RBNZ when it comes to setting restrictions on bank lending.
He published proposals last week outlining what the new process could look like, further to a long-standing RBNZ and Treasury-led review of the Reserve Bank Act.
Robertson suggested the RBNZ would still decide how to regulate bank lending. It might even have more macro-prudential tools, including DTI restrictions, at its disposal.
But the Finance Minister would specify which types of lending (IE residential property, commercial property, agricultural, business) restrictions could be imposed on.
The proposed regime is complex and includes a number of grey areas that need to be worked through before a regime takes effect in 2023.
This story was originally published on Interest.co.nz and has been republished here with permission.