On the path to registered valuer status
Work hard, play hard — that's Scott McIntyre's philosophy as social committee chair in our Auckland office and as a talented young valuer on track to complete his registration.
We caught up with the "honorary Westie", who's now in the fourth year of a very promising valuation career, to see if it's everything he had always hoped it would be and to find out what advice he would give the next generation of young valuers coming into the ranks.
Tell us a bit about yourself… who are you and where are you from?
I'm Scott, I'm 25, I'm the oldest of four siblings. I grew up on a lifestyle block in what used to be a small country side town called Waimauku (not so small now with new subdivisions and shops being built in the recent years), but no-one ever knows where that is so I just say Kumeu, which is north west of Auckland — ranging from 45mins to two hours from the CBD depending on traffic.
I currently live with my partner Britta in West Harbour, so I claim that Westie title.
What exactly does your job entail?
I'm a residential valuer, recently dipping my toes into lifestyle valuing in Auckland. I mainly look after the Waitakere region in the rating team, valuing subdivisions, looking at building consents, maintaining the District Valuation Roll, working on rating revaluations, market valuations, and everything in between.
In addition to all that, I've recently taken on the role as account manager for Kaipara District in the Northland region, mainly looking after any and all queries, maintaining a strong customer relationship and offering any additional support that Kaipara may need from QV.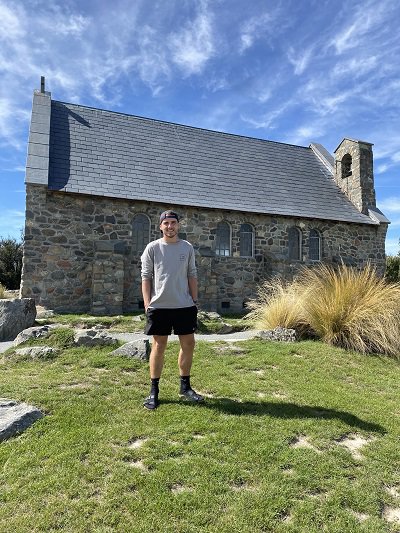 You've been working for QV for around three years now – how are you finding it?
The work is interesting and every day is different, so I'm never bored. My favourite thing is getting out and driving around Waitakere and the wider Auckland region on property inspections. The people are great too. I've made some great mates here at QV.
You're working hard to gain your registration right now. How's that going?
The journey getting there is going good so far. I have a really supportive manager, Liz Jones, who sees and understands where I want to go in my career and she's helping me every step of the way. The clock is ticking fast though! The aim is to submit my reports in November and sit the exam in February 2023.
We're just about to start recruiting for our 2023 graduate programme – what's your best advice for a young person looking to get into the industry?
Don't say 'no' or 'I can't'. Take every opportunity that comes, no matter how big or how small. Be proactive too — don't just sit and wait for the opportunity to find you, you need to find the opportunity.
Tell us a bit about your important role on our Auckland office's social committee…
I think it's great to have a strong culture and a close team, because it helps productivity at the end of the day — and if you enjoy who you work with, it makes coming to work easy. That's why I help organise team building activities, like our recent mid-winter Christmas lunch, with the help of the other committee members.
At QV we're big proponents of work-life balance… what do you like to do in your time off?
In my time off, you'll find me on the tennis court, at the local football club or just catching up with mates and maybe playing darts.
Earlier this year, my partner and I took a week and a bit off work and jumped in a campervan and explored the South Island, starting in the Christchurch and finishing in Queenstown. We both have the travel bug, but with the boarders being closed for so long, international wasn't really an option so it was a great way to get out and about and explore New Zealand.